Friday, September 30, 2011
Published with Blogger-droid v1.7.4
Posted by

Robin & David
at 1:36 PM
0 comments

David, and Jett David at Famous Daves!
Cute little smiley!
Jett is pulling apart his diaper station.
Funny hair after the bath.
Jett crawling!! At 7 months.
Jett is standing up! Time to lower the crib and playpen...
Messy Face!
Jett and Grandpa reading the newspaper.
What big eyes you have!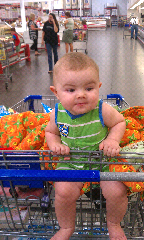 Jett not sure about riding in the shopping cart. Theres just so much to look at!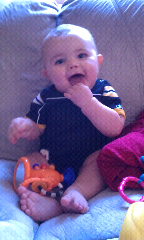 Steelers Baby!
Swimming with Grandma!
Playing with Daddy
Posted by

Robin & David
at 1:29 PM
1 comments

This was us all dressed the same on the 4th of July! Jett was feeling a little grumpy..
Jett loves taking baths, he splashes in the water and cries when he has to get out.
Jett playing with his toys. He looks naked, but he is wearing a diaper! His rolls are just hiding it.
This is how his hair has been growing in, a little fo-hawk!
Jett and cousin Izzy hanging out in the backseat. So cute!!
And they're asleep.
Posted by

Robin & David
at 1:14 PM
0 comments