David, and Jett David at Famous Daves!
Cute little smiley!
Jett is pulling apart his diaper station.
Funny hair after the bath.
Jett crawling!! At 7 months.
Jett is standing up! Time to lower the crib and playpen...
Messy Face!
Jett and Grandpa reading the newspaper.
What big eyes you have!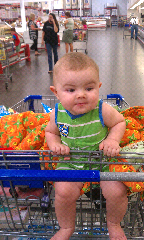 Jett not sure about riding in the shopping cart. Theres just so much to look at!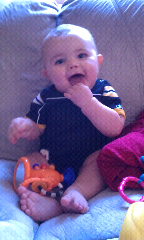 Steelers Baby!
Swimming with Grandma!
Playing with Daddy